Photonics Explorer
Let your students discover the wonderful world of photonics, the science of light, by having them carry out experiments themselves.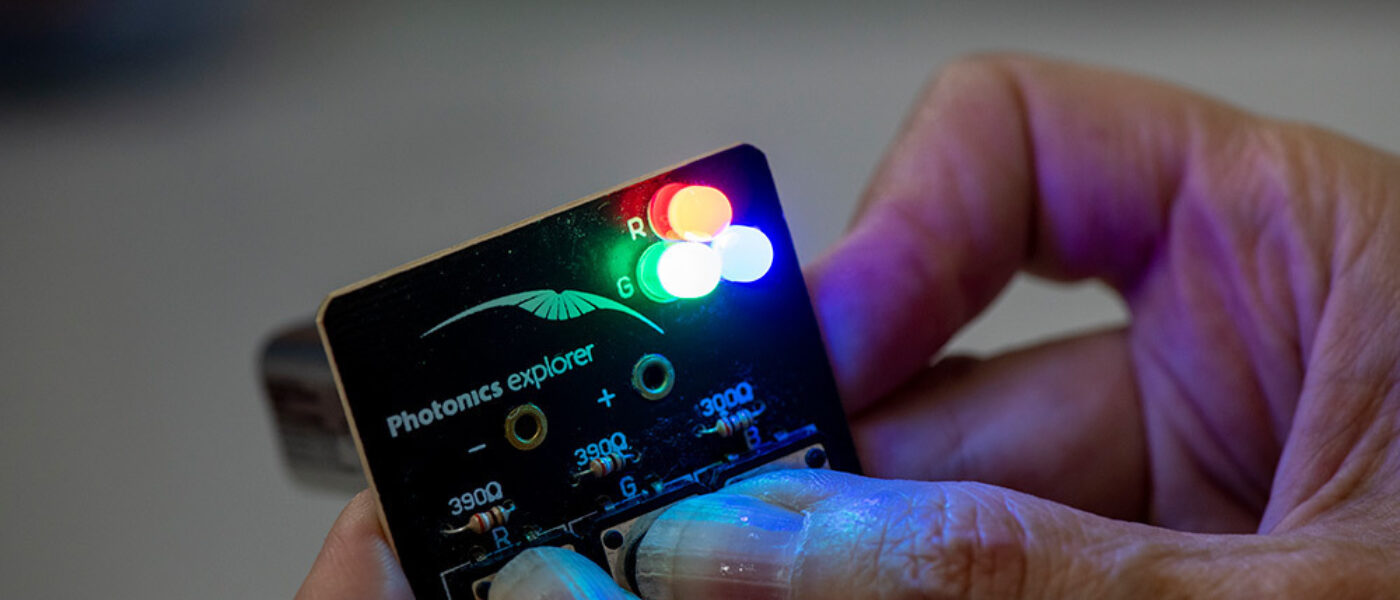 The Photonics Explorer is an intra-curricular photonics kit designed for secondary school students across Europe.
Each kit contains a class set of generic, durable and versatile optical experimental components for a class of 25-30 students. This is supported by a didactic framework consisting of worksheets, factsheets, teacher guide and multimedia material. The Photonics Explorer is specifically designed to integrate into and enhance and complement existing European secondary school science curricula. The kit is distributed to science teachers who enrol on a training course.
The Photonics Explorer kits are available in 16 EU languages and are distributed by EYESTvzw. More information about EYEST can be found via this link.

Students are surprised and astonished of what we can do with a relatively simple material.
Teacher from Switzerland
A worthwhile and complete application. It links science to technology and makes applications useful in everyday life.
Teacher from Greece
At first I was a bit sceptical (I thought it was just a toy) but after learning about and using the Photonics Explorer with the students, I'm very satisfied. It is easy to use and the quality is good.
Teacher from Finland
Interested in the Photonics Explorer?
The Photonics Explorer is only distributed in conjunction with a training course for teachers. Are you interested in taking the course? Or do you havea question for us? Let us know!
What's in the box?
10 aluminium mirrors (7x7 cm)
20 polarisers (7x5 cm)
10 colour filter sets (7x4 cm) including red, green, blue, cyan, magenta and yellow
10 LED modules with red, green and blue LEDs
10 sets of robust lenses
10 foils with slit and double slit for optical diffraction experiments
10 diffraction gratings
5 m polymer optical fibre
10 eyesafe lasers
8 educational modules
Lower secondary (ages 12-14)
Light signals – the properties of light and its use in telecommunication
Colours – colour perception, additive and subtractive colour mixing

Lenses and telescopes – refraction and imaging
Eyes and vision – comparison between human eyes and digital cameras
Upper secondary (ages 16-18)
Making light – comparing different light sources, including lasers
Polarisation – applications in displays and life sciences
Diffraction and interference – diffraction on a slit, spectrometry

A scientist's job – encouraging young people, particularly girls, to pursue careers in science and engineering
Buy your Photonics Explorer!
Do you already have a Photonics Explorer kit and would like a second? Or would you like to sponsor a number of kits? Place your order here: